There are numerous scams around where third party websites pose as official websites or where people sign up and pay for a service that is free on the official Gov.uk website.
These services often pay for Google ads so that they appear to be t the top of the search listings. Many people don't realise that these sites are paid for ads and are not endorsed by Google in any way, despite that that Google displays the word "ad" next to them.
Amongst the scam driving licence application websites are DriversLicenceAssistance.co.uk
Here is their ad when you type "driving licence application" into Google

The fact that they can't even spell "personally" correctly is a clue! If you look carefully they don't actually claim to be the official site. Of course the claim that they are "safest & easiest process" is patently untrue as it is safer and easier to apply at the official site! The way that they justify their ridiculously high charges (eg £80 to change your address on your driving licence when you can do it for free at the Gov.uk website) is that they provide extra services such as "checking your application". It's unfortunate that Google sullies it's own reputation by allowing these scammers to continue to advertise their driving licence "services".
If you search "renew driving licence" here are some further results from similar scammers.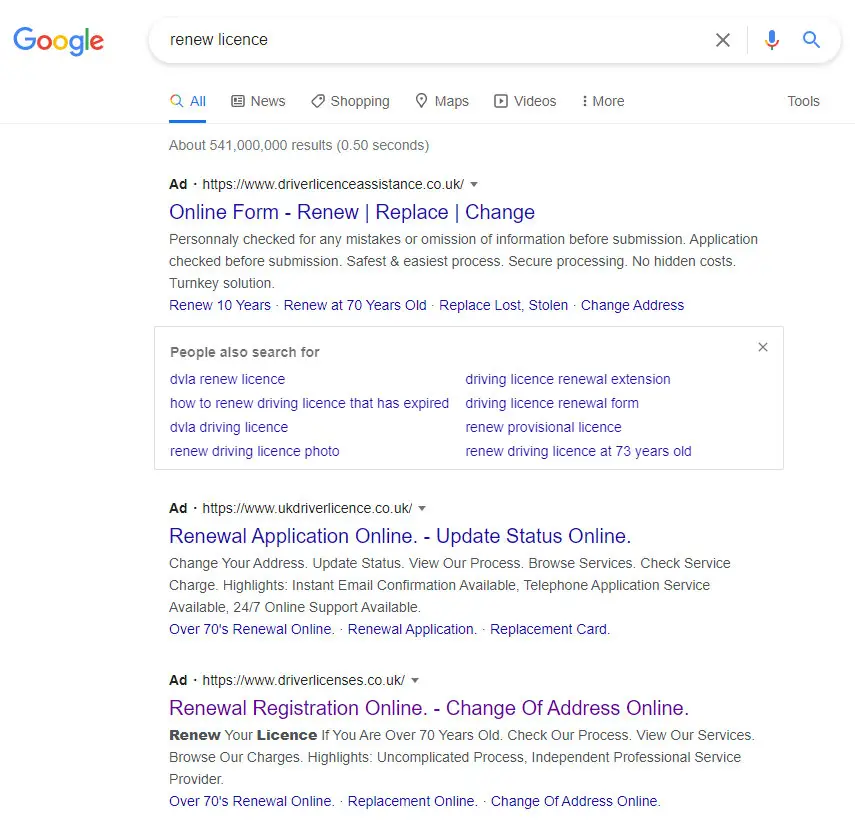 You have to scroll down past all these ads before you can find the official UK Government website to change your address on your licence..
What can you do if you are victim of a driving licence application scam? Sadly very little. Firstly complain to the business itself. Most have a support desk but be prepared that they will fob you off with "we are very sorry you are unhappy…" but "we have provided the service you signed up for." They may offer you a £16 refund which is the most they will offer. You could try a chargeback request with your credit card company.
Out of a sense of wanting revenge if not a refund, some victims of these scams have gone to the search result and repeatedly clicked the ads – every click costs the advertiser in fees to Google! we wouldn't advocate such behaviour!