In order to drive a car in the UK you need to pass the driving test. Prior to taking the test you need to obtain a provisional driving licence which you can apply for online or by post. The cost of a provisional licence is £50. Having obtained your provisional you can start your driving lessons. It is not a legal requirement that you have lessons with a professional driving instructor, but it is unlikely that you will obtain the knowledge ands skills required to both pass the test and be a safe driver in the future without professional tuition.
Driving Instructors are professionally trained to a high standard and their standards are monitored by ongoing DSA check tests. Instructors are graded from 4-6. Grades lower than this are unsatisfactory and unless the Instructor improves at a re-test he may be removed from the Register.
Before the Driving Test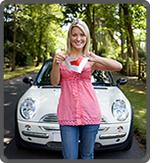 Before you can take your practical driving test, you need to pass the UK theory test. This consists of 50 multiple choice questions and a hazard perception test. You can learn for the theory test using recommended resources such as the best app for theory test – theory test ninja app. When you have passed you can then apply for the practical test. The practical test lasts for about 35-40 minutes (depending on traffic) and involves normal driving, independent driving, possibly an emergency stop, one reversing manoeuvre which maty involve parking and two vehicle check questions. Make sure you get the best driving school to help you to have the best chance of passing first time.
After the Driving Test
Once you have passed your test it is advisable to take the Pass Plus course that will introduce you to driving in more varied road and traffic conditions such as motorway driving.
If you get 6 points on your licence within the first two years you will need to retake your driving test. Speeding offences normally attract a penalty of three points on your driving licence if dealt with as a fixed penalty or up to five points if you have to go to court. The fine for a fixed penalty notice for speeding – SP30 is £100.